(
Back to Event Page
)
ABSALOM JONES
PRIEST (13 FEB 1818)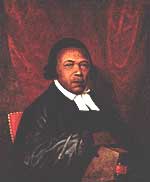 In 1786 the membership of St. George's Methodist Episcopal Church in Philadelphia included both blacks and whites. However, the white members met that year and decided that thereafter black members should sit only in the balcony. Two black Sunday worshippers, Absalom Jones (1746-1818) and Richard Allen (1760-1831), whose enthusiasm for the Methodist Church had brought many blacks into the congregation, learned of the decision only when, on the following Sunday, ushers tapped them on the shoulder during the opening prayers, and demanded that they move to the balcony without waiting for the end of the prayer. They walked out, followed by the other black members.
Absalom Jones conferred with William White, Episcopal Bishop of Philadelphia, who agreed to accept the group as an Episcopal parish. Jones would serve as lay reader, and, after a period of study, would be ordained and serve as rector. Allen wanted the group to remain Methodist, and in 1793 he left to form a Methodist congregation. In 1816 he left the Methodists to form a new denomination, the African Methodist Episcopal Church (AME). Jones (ordained deacon and priest in 1795 and 1802) and Allen (ordained deacon and elder in 1799 and 1816) were the first two black Americans to receive formal ordination in any denomination. (So I am told by my Episcopal source. On the other hand, a Baptist correspondent tells me of the earlier ordination of a black American to the Baptist ministry. Perhaps my first source either did not know of this, or did not consider the Baptist ordination to be "formal." This is not a question of snobbery. Some congregations I know simply ask someone who they think is a good speaker to be their preacher for a year, and there is no ceremony beyond the vote and his saying, "I accept.")
The African Methodist Episcopal Church Zion (AME Zion) formed in New York in about 1796 for similar reasons. The two groups were well organized before they heard of each other. The Christian Methodist Episcopal Church, also historically black, was an offshoot in 1870 of the Methodist Episcopal Church, South. (The Methodists split into North and South before the War of 1861-1865, and have since re-united.) These three black groups, and the United Methodist Church, and some other denominations of Methodist origin, are committed in principle to eventual union, but bureaucracies move slowly. Meanwhile, the groups are united in doctrine, and members of each are free to worship and to receive the Sacraments with members of the others.
by James Kiefer